After Friday's UEFA Champions League quarter-final draws that pitched his side, Manchester City, against Borussia Dortmund, Pep Guardiola and his backroom staff would have probably asked Google: What makes a good striker? And How do you stop a striker from scoring? Erling Haaland is the necessity that is the mother of these questions.
The popular search engine will most likely come up with all the wrong answers only because Guardiola and his crew asked all the wrong questions regarding the Norwegian. To avoid a situation of "garbage in garbage out" the question should be, what makes a good free-scoring striker? And Google will tell the former coach of Barcelona "your wish is my command" and provide answers as follows: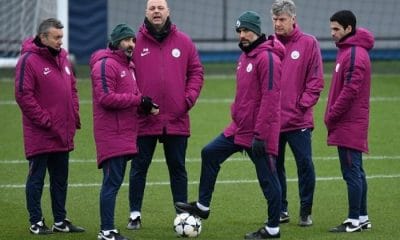 Confidence without arrogance; great touch with inside of the foot, laces, outside of the foot, chest, thigh, head, and shoulder (yes, shoulder, the best of the best like Haaland often use their shoulder); football speed which is a combination of the following speed elements: the ability to run fast, explosive speed – the ability to get up to maximum speed quickly, the speed of feet – the ability to move one's feet fast during the execution of moves, the speed of thought – perception, decision, execution (the ability to quickly perceive the situation and then quickly make a decision and execute it), explosive fast mobility runs – which is a combination of some of the above and an understanding of when and where to make the run; shot accuracy; and positioning.
To be a great striker is great fun and the Borussia Dortmund forward has been scoring for fun bagging 20 UEFA Champions League goals in just 14 games this season. Erling Haaland achieved the milestone in 10 matches fewer than the next player on the list, Tottenham's Harry Kane, who had set the new benchmark when he scored his 20th goal in November 2019 – on his 24th appearance in the competition. The Norwegian is the first to reach the landmark figure before his 21st birthday. To put this achievement in perspective, the UEFA Champions League's all-time leading scorer, Cristiano Ronaldo, needed 56 appearances to hit 20 goals.
Related: Haaland's Father, Agent Land In Barcelona For £154m Transfer Talks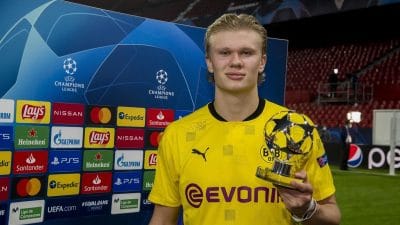 Haaland, 20, attained the mark with two more goals against Sevilla. The Dortmund ace has scored 10 goals in this season's tournament alone, four more than anyone else. He is also the youngest player to reach 20 UEFA Champions League goals at 20 years 231 days. Kylian Mbappe is second at 21 years 355 days.
The secret of his success in front of a goal? The Norwegian is a model pro and perfectionist. He employs a personal trainer to keep himself in shape, takes care of his diet and sleep patterns, and regularly goes in for after-hours training sessions.
Haaland goal rate may be crazy but then, his quotes about goals are crazy too.
"I have five hat-trick balls in my bed, and I sleep well with them. They are my girlfriends," he said after bagging yet another hat-trick.
The prolific striker, known for his pace, athleticism, and strength, earning him the nickname, "The Terminator" was born on July 21, 2000, in Leeds, England. At that time, his father, Alf-Inge Erling Haaland was playing for Leeds United in the Premier League.
In 2004, Haaland moved to Bryne, his parents' hometown in Norway. As a child, aside from playing football, he took part in various other sports, including handball, golf, and track and field. In 2006, he achieved a feat not documented in the Guinness Book of Records. When he was five, he recorded 1.63 meters for the standing long jump in his age category.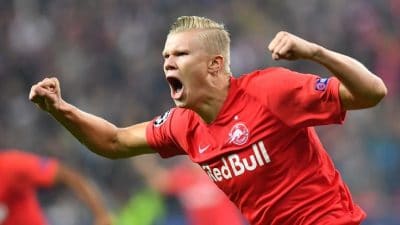 In the same year, he started his football career at Bryne and moved to Molde the following year. Haaland spent two seasons with the club before signing with Austrian side Red Bull Salzburg in January 2019. At Salzburg, he won two Austrian Bundesliga titles and one Austrian Cup.
In December 2019, he completed a transfer to Borussia Dortmund for a fee reported to be in the region of €20 million.
"I felt Borussia Dortmund and me were a good match," he said after putting pen to paper for the 1996-97 UEFA Champions League winner.
"The club said directly: 'we need you up front. We like your playing style and we want to have you here'. I liked how they spoke to me then and that is what triggered me. That's when I felt that me and Dortmund was a good match."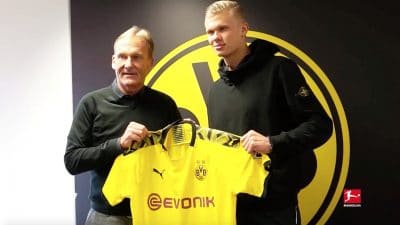 Since joining Dortmund, he has barely paused for breath, scoring seven times in his first three German League outings – a Bundesliga record – and going on to register an incredible 15 goals in 18 starts.
He carried on his goalscoring success in his Champions League campaign, becoming the second teenager to score ten goals in the competition, and won the 2020 Golden Boy award. Erling Haaland became the first teenager to score in five consecutive UEFA Champions League matches during the 2019-20 season.
At the 2019 FIFA U-20 World Cup, Haaland won the tournament's Golden Boot. He scored a record nine goals in a single match, and after the tournament, he made his debut for the Norway senior team.
"I'm quite a direct player – if I could choose, I'd just go straight towards the goal and score," he said.
"That's what I do best. I am a guy who works hard, who loves scoring goals and who loves to play football. I also want people to see what kind of player I am. I don't want to talk too much; I want people to see how I am… and then they will see!"
Haaland indeed does not talk too much as he is not an interviewer's delight. He seems not to be programmed for interviews and often likes to get out of them straight away.
One can easily recall the infamous "Why not?" response when asked why he and his Dortmund teammates clapped the 'Yellow Wall' despite no fans inside the Signal Iduna Park after a 4-0 win over Schalke in the derby.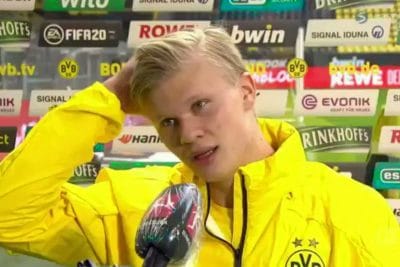 In November 2020, Haaland featured in another awkward interview. As a final question, a reporter asked the striker if he was "sleeping lonely" that night. A confused Haaland replied, "I'm errrr, yeah".
The journalist tried to explain his question further and referred to a previous quote where the forward said his match balls were "his girlfriends".
The reporter said: "You're not taking a girlfriend at home; you didn't score a hat-trick". To which Haaland simply added: "Didn't score, no".
With the 20-year-old now having scored over 100 career goals at such a young age and developing into one of the deadliest strikers in the game, Haaland prefers to do his talking on the pitch. Journalists can forgive his taciturnity off it.
However, Guardiola and his wards can take a cue from the media. Create an awkward interview situation on the pitch that will stop Haaland from "talking". That answers the second question we omitted earlier: How to stop a free-scoring striker? But then, "how do you create an awkward interview situation on the pitch"? Google may not have the answer. We shall find out at the Etihad in the first leg!
Fastest Paying Betting Site in Nigeria: Grab your 140% First Time Deposit Bonus Now — www.Sportybet.Com Copyright © 2021 Completesports.com All rights reserved. The information contained in Completesports.com may not be published, broadcast, rewritten, or redistributed without the prior written authority of Completesports.com.