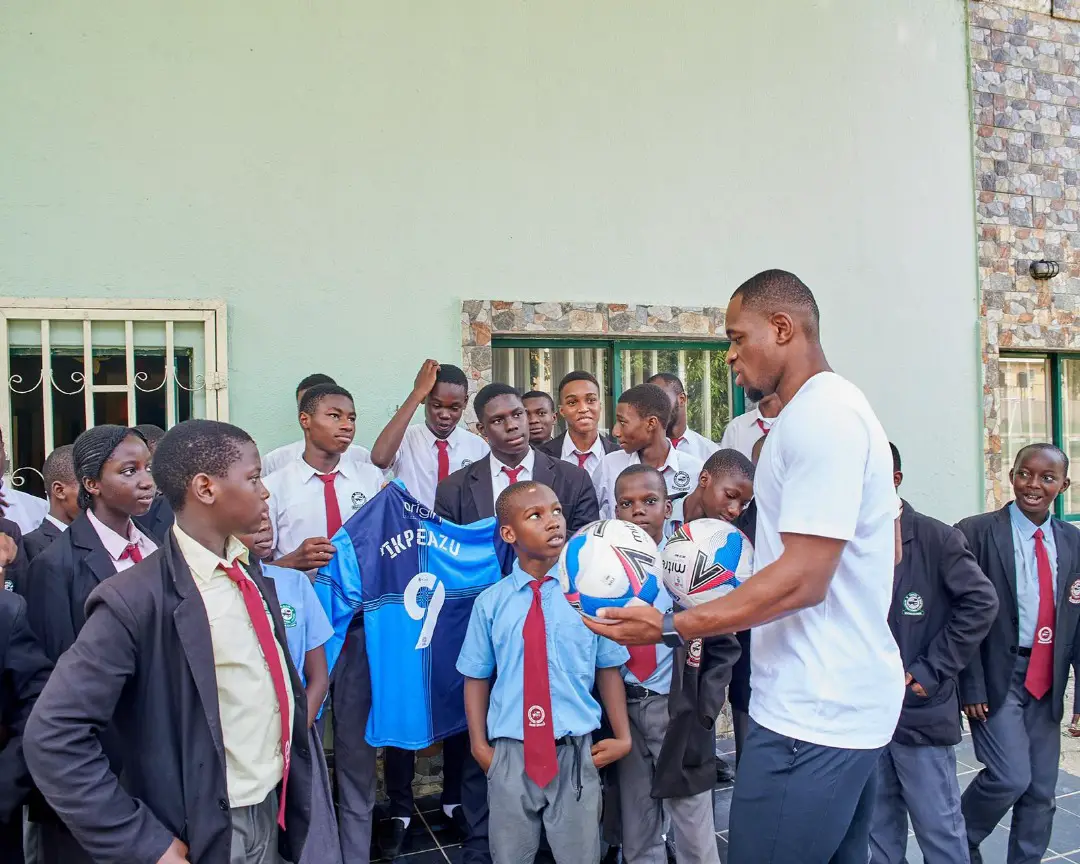 Uche Ikpeazu has disclosed that he is already relishing the challenge to help Middlesbrough achieve something special come the conclusion of the 2021/22 season, which is to help them gain promotion to the Premier League positing a club of such magnitude should be playing in the Premier League.
The 26-year-old last week Friday joined Middlesbrough on a three-year contract after he completed a summer transfer from Wycombe Wanderers where he spent only one season.
Ikpeazu who was recently in Nigeria where he also paid a courtesy visit to Oasis International College, the secondary school he attended spoke exclusively to Complete Sports' reporter, Oluyemi Ogunseyin…
Congrats to you on your transfer to Middlesbrough. Can you tell us more about the move and what are your expectations ahead of the 2021/22 season?
Thank you. I had known about the interest for a while. I played against Middlesbrough a couple of times during the 2020/21 season and I did very well and ever since then, the manager was interested in me.
And fortunately for me, he brought me over to Middlesbrough which is such a massive club, so I am just excited. My expectations for me, the magnitude of the club, they should be playing in the English Premier League (EPL). So, obviously, that is my ambition to try and score goals, make assists, just put up lovely performances to help Boro at least get into the play-offs for promotion and then, we will take it from there.
I am just taking every game as it comes but I am very ambitious and of course, I know that I will be playing under a very experienced manager who can help us achieve some great things as well.
How excited are you now that you will be playing under a vastly-experienced manager like Neil Warnock? How easy or difficult was it for Warnock to convince you to join Boro?
I am very excited like I said before to work with a manager who has been in the game for such a long time and obviously, it's an honour for me as well that he wanted to bring me to the club.
It just shows the kind of belief he has in me as a player, so I am excited and hopefully, we can achieve some great things together. What did he do to convince me to join Boro?
(Uche laughs) There wasn't much convincing to join when I knew that they were interested in signing me, I just wanted to jump at the opportunity and like I said before ever since I got released from Watford, I set myself a target.
That very target was that by the age of 25, I would be playing in the Championship, I had always wanted to get back to that club of that stature, so there was no convincing when I knew that he was interested in me.
What fond memories do you have of Wycombe Wanderers? I know you are certainly going to miss your former club…
The fond memories that I have of Wycombe, they are so many, I think that particularly the way it started, obviously, I missed more or less the first half of the season and I couldn't start a game until the end of December 2020.
I think the fond memories are just bouncing back from all those injuries, illness and all these things and scoring my first goal in the Championship against Middlesbrough funnily enough, I think that was an emotional day for me.
Like I said, I had missed a lot of games and I had a tough start at Wycombe but to score my first goal in the Championship was massive for me and you know they always say the first thing is the hardest.
And I knew that if I got just one goal, I would definitely get more, yes, it was an amazing feeling to score my first goal in the Championship, I think that is probably my best memory of Wycombe.
You were recently in Nigeria where you also paid a courtesy visit to Oasis International College, the secondary school you attended. Prior to your latest trip to Nigeria, when last were you in the country and how did you find your most-recent visit?
Yes, I visited my old secondary school, Oasis International College, I went to school there, year nine, obviously, growing up in London, my parents wanted me to experience my culture.
Most of the African descent are unable to embrace their culture beacsue they spend so many years in the United Kingdom (UK). I had been to Nigeria a few times to visit. But I never spent a considerable amount of time there but going back to my old school, it was very touching and it was just a feeling of gratitude, to be honest with you, how far I have come and what Nigeria taught me as a country.
Not only as a school but that work ethic, the desire to keep working hard, you know in Nigeria, that is embedded in children from a young age, the aspect of hard work, being respectful, discipline, that is massive. So, it was really good speaking to the kids and I also went to the room that I used to stay when I was in school, I was just really humbled and it was the main reason why I went to Nigeria, though, it was great.
The last time I visited Nigeria was back in 2009 and that was also when I left, so it was twelve years ago since I was last in the country, so it was quite a while.
Fastest Paying Betting Site in Nigeria: Grab your 140% First Time Deposit Bonus Now — www.Sportybet.Com Copyright © 2021 Completesports.com All rights reserved. The information contained in Completesports.com may not be published, broadcast, rewritten, or redistributed without the prior written authority of Completesports.com.